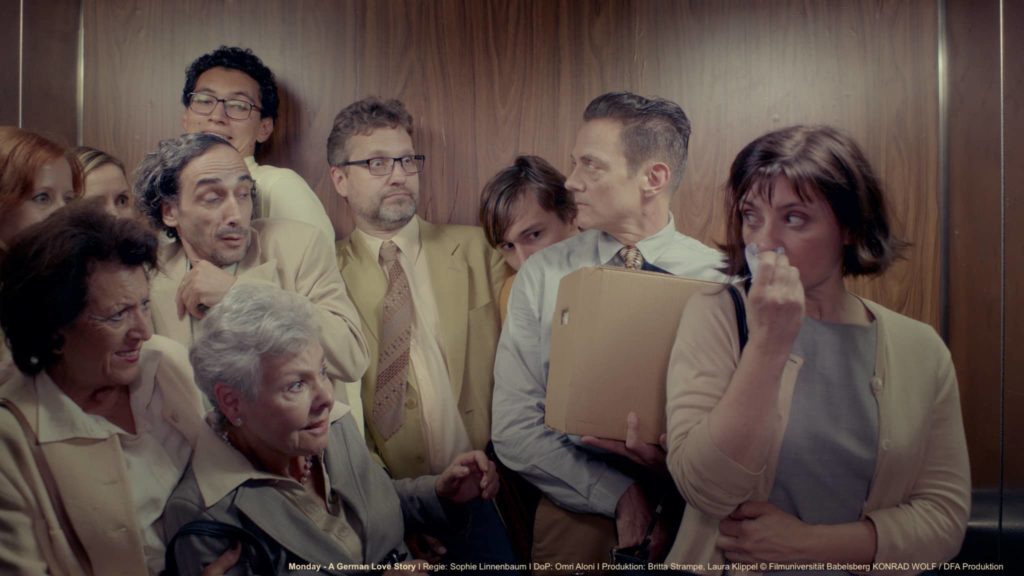 PROJECTS
THE ORDINARIES
fiction feature, GER 2022, in post production
Have you ever felt like a side character in your own life? What if you're really one…
Script: Sophie Linnenbaum, Michael Fetter Nathansky I Director: Sophie Linnenbaum I Producers: Laura Klippel, Britta Strampe I DoP: Valentin Selmke I Production Designer: Josefine Lindner, Max-Josef Schönborn I Costume Designer: Sophie Peters I Make-up: Elena Ziegler I Music Composer: Fabian Zeidler I Sound Supervisor: Nicolas Voß I Editor: Kai Eiermann I Visual Effects: Johannes Blech I Post Production Supervisor: Arno Scholwin I Commissioning Editor: Jörg Schneider
© Bandenfilm in co-production with ZDF Kleines Fernsehspiel and Film University Babelsberg KONRAD WOLF
Funded by Medienboard Berlin-Brandenburg, Nordmedia Film- und Mediengesellschaft Niedersachsen/Bremen, Filmförderungsanstalt, Filmförderungsanstalt and Bundesbeauftragte für Kultur und Medien
A CHOIR OF SISTERS (WT)
documentary feature, GER/CH 2024, in development
A remote farm in the Swiss Alps. A deeply religious family, a father who had rather been a priest than a farmer and a mother who gives birth to firfteen children. Twelve girls and three boys and a childhood between love and loss, fundamentalism and anarchy. The memories of my mother and her sisters.
Director: Sophia Bösch I Producers: Franziska Sonder, Laura Klippel, Britta Strampe
© Bandenfilm in co-production with Ensemble Film
Funded by Filmförderungsanstalt, Kanton St. Gallen Kulturförderung, Zürcher Filmstiftung und Bundesamt für Kultur BAK (CH)
#FREEDOM OF THE F*** (WT)
dramedy series, GER 2023, in development
Brandenburg as a measure of social collar: the snotty local journalist Jalilah researches exciting and bizarre to tragicomic stories of her homeland behind garden fences, in hobby cellars and clubhouses, hitting right at the heart of the social debate.
Writer: Natalie Zoghbi I Producers: Laura Klippel, Britta Strampe
© Bandenfilm I Funded by Medienboard Berlin-Brandenburg
THE MOST BEAUTIFUL PLACE TO WORK (WT)
documentary feature, GER 2024, in development
A spiral of physical and psychological violence that results in sysiphos work: in an intensive therapeutic dormitory in Brandenburg, five educators dedicate all of their work and their hearts to the young residents. An observational documentary about the educational work by mostly lateral entrants, whose activity takes place in the social offside in spite of all systemic importance.
Director: Daniel Abma I Producers: Laura Klippel, Britta Strampe
© Bandenfilm I Funded by Bundesbeauftragte für Kultur und Medien