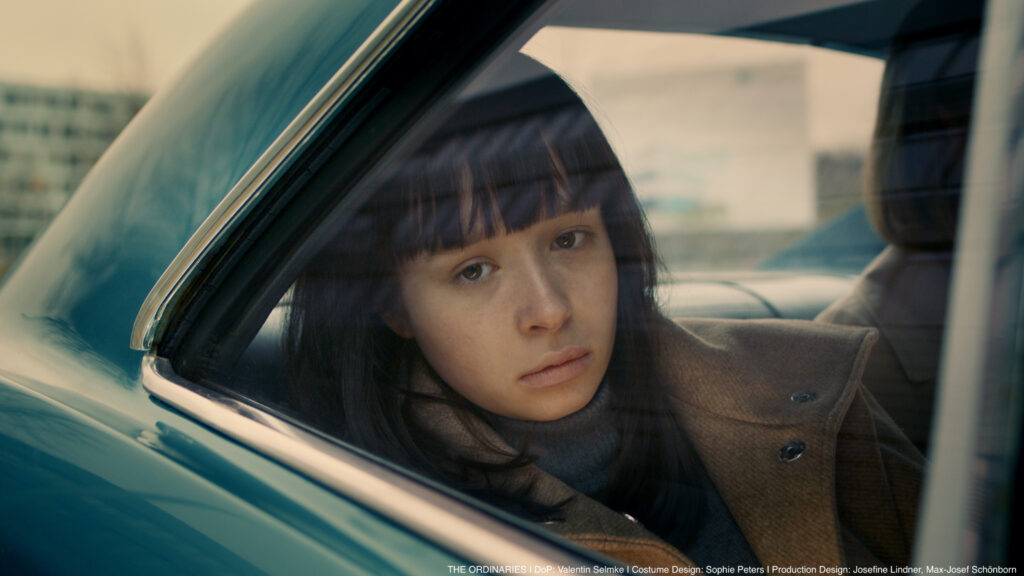 PROJECTS
THE ORDINARIES
fiction feature, GER 2022, 120 min
Have you ever felt like a Supporting Character in your own life? What if you really are one… ?
In a repressive three class-society, Paula, a simple Supporting Character, is about to face the most important test of her life: she has to prove she deserves to be a Lead. She is at the top of her class at the Main Character School – but so far has failed in generating great emotional music. In search of a solution, she finds herself in the abyss of the cinematic world, on the fringes of the storyline and lost amongst the Outtakes.
Cast: Fine Sendel, Jule Böwe, Henning Peker, Sira Faal, Noah Tinwa, Denise M'Baye, Pasquale Aleardi and many more.
Script: Sophie Linnenbaum, Michael Fetter Nathansky I Director: Sophie Linnenbaum I Producers: Laura Klippel, Britta Strampe I DoP: Valentin Selmke I Production Designer: Josefine Lindner, Max-Josef Schönborn I Costume Designer: Sophie Peters I Make-up Artist: Elena Ziegler I Music Composer: Fabian Zeidler I Sound Supervisor: Nicolas Voß I Editor: Kai Eiermann I Visual Effects Supervisor: Johannes Blech I Post Production Supervisor: Arno Scholwin I Commissioning Editor: Jörg Schneider
© Bandenfilm in co-production with ZDF Kleines Fernsehspiel and Film University Babelsberg KONRAD WOLF
Funded by Medienboard Berlin-Brandenburg, Nordmedia Film- und Mediengesellschaft Niedersachsen/Bremen, Filmförderungsanstalt, Filmförderungsanstalt and Bundesbeauftragte für Kultur und Medien
Theatrical Distribution Germany: notsold GmbH in cooperation with Port au Prince Pictures I World Sales: The Match Factory
Awards: Förderpreis Neues Deutsches Kino (Best Director, Best Production) Filmfest München, BUNTE New Faces Award Film, DEFA-Förderpreis at Filmkunstfest MV, Audience Award und Youth Jury Award by AG KIno (Filmkunstmesse Leipzig), First Steps Award 2022 Best Feature Film, Nomination for MFG-Star (Sophie Linnenbaum) & Rolf-Hans Müller Award (Fabian Zeidler), Goethe-Institut's Children's and Youth Film Award at International Film Festival Schlingel, Best International Film by Audience of Golden Rooster Film Festival (China), KINEMA German-French Youth Award of BIFF, Heimspiel Award for the Best Film with regional reference at BIFF (Denise M'Baye), MAINZER RAD for the Best Feature Film at FILMZ, Best Feature Film MADE IN GERMANY at exground Filmfest, Best Fiction Feature at Ahrenshooper Filmnächte, Audience Award at REC de Tarragona, Audience Award at Seeyousound International Music Film Festival, Best Fiction Feature at Film Festival Turkey Germany
Festivals: Filmfest München, Karlovy Vary International Film Festival, Fünf Seen Filmfestival, Film ohne Grenzen – Bad Saarow, Filmkunstfest Mecklenburg-Vorpommern, Internationales Filmfest Oldenburg, Zürich Film Festival, Film Festival Cologne, Internationales Filmfestival Schlingel, Nordische Filmtage Lübeck, Biberacher Filmfestspiele, LichtSpielLiebe Ludwigsburg, Thessaloniki Film Festival, Internationales Filmfestival Braunschweig, FILMZ – Festival des deutschen Kinos, PÖFF Tallinn Black Nights, Ahrenshooper Filmnächte, exground Filmfest, Televisionale Baden-Baden, 601 Berlin-Warschau, Kinofest Lünen, Film- und Medienforum Lüneburg, Europäisches Filmfestival Göttingen, Journées Cinématographiques de Carthage, Piccolo Grande Cinema, Golden Rooster Film Festival, QCinema International Film Festival, International Film Festival of India, Panorama of European Films, REC de Tarragona, Gezici Festival / Festival on Wheels, Around the World in 14 Films, Les Arcs Film Festival, Filmfestival Max Ophüls Preis, Würzburger Filmwochenende, Göteborg Film Festival, Seeyousound International Music Film Festival, KINO – Mostra de Cinema de Expressão Alemã, Dublin International Film Festival, South by Southwest (SXSW), Berlin & Beyond Film Festival San Francisco, Victoria Film Festival, Glasgow Film Festival, Filmfestival Türkei Deutschland, Taipei Golden Horse Film Festival, Grenzland-Filmtage Selb, Fantastic Film Festival Australia, Lichter Filmfestival Frankfurt, Kopfkino Paris
THE MOST BEAUTIFUL PLACE TO WORK (WT)
documentary feature, GER 2024, in production
Temporary parents who are called Mrs. Schmidt and Mr. Walter instead of Mom and Dad – four educators in an intensive therapeutic residential home in Brandenburg create a reliable home that their biological parents cannot offer. A touching and entertaining portrait of the daily work of silent heroes, most of whom are career changers in a profession that, despite its systemic relevance, takes place on the sidelines of society.
Director: Daniel Abma I Director of Photography: Johannes Praus I Sound Supervisor: Alexandra Praet I Editor: Jana Dugnus I Producers: Laura Klippel, Britta Strampe
© Bandenfilm I Funded by Bundesbeauftragte für Kultur und Medien, Filmförderungsanstalt, Medienboard Berlin-Brandenburg, Deutscher Filmförderfonds I Theatrical Distribution Germany: Camino
#EVERYONE'S OPINION (WT)
dramedy series, GER 2024, in development
The small town as a measure of social collar: the snotty local journalist Jalilah researches exciting and bizarre to tragicomic stories of her homeland behind garden fences, in hobby cellars and clubhouses, hitting right at the heart of the social debate.
Writers: Natalie Zoghbi, Alison Kuhn I Producers: Laura Klippel, Britta Strampe
© Bandenfilm I Funded by Medienboard Berlin-Brandenburg
CHOIR OF SISTERS (WT)
documentary feature, GER/CH 2025, in development
A remote farm in the Swiss Alps. A deeply religious family, a father who had rather been a priest than a farmer and a mother who gives birth to firfteen children. Twelve girls and three boys and a childhood between love and loss, fundamentalism and anarchy. The memories of my mother and her sisters.
Director: Sophia Bösch I Producers: Franziska Sonder, Laura Klippel, Britta Strampe
© Bandenfilm in co-production with Ensemble Film
Funded by Filmförderungsanstalt, Kanton St. Gallen Kulturförderung, Zürcher Filmstiftung und Bundesamt für Kultur BAK (CH)